To wake a tired bee, all you need to do is mix two tablespoons of tap water with one tablespoon of granulated sugar, place the solution near the bees with a teaspoon, and let it drink. Never feed honey to bees or try to force bees to drink.
How To Revive A Tired Bee Back To Life?
With the loss of large areas of natural habitat, bees are finding it difficult to find pollen- and nectar-rich plants in urban environments.
Some bees leave the hive or nest in search of food. During these journeys, bees feed on nectar, giving them the energy they need to collect pollen.
With that in mind, our little furry buddies sometimes need help, so let's see how to bring a bee back to life with a simple sugar and water solution.
It's important to remember that sugar water should only be used in emergency situations to help bees return to the hive or nest.
Tap water and granulated sugar have no nutritional benefits for bees, and unlike nectar and pollen, they provide many nutrients that are essential for bee growth and development.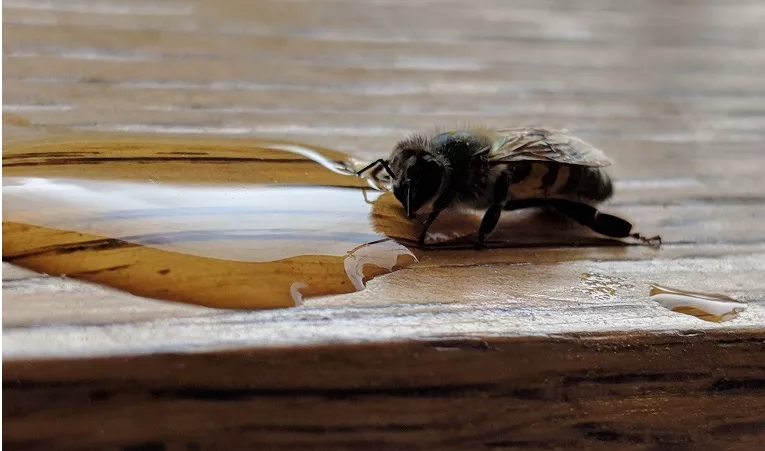 Creating A Sugar-Water Solution For Bees
The quickest way to give tired, sleepy bees the energy they need is to make a simple mixture of sugar and water to make a syrup.
Find a suitable container to mix, remembering that a bee doesn't need much liquid, so a small container will do.
Mix two tablespoons of tap water with one tablespoon of granulated sugar until mostly dissolved.
Put The Solution/Syrup On A Spoon Near The Tired Bee.
It is very important not to force the bee to drink water as she will be able to access your fluids on her own if she needs to refuel.
Bees have a long beak that swells to suck nearby sugar water.
Some sources seem to suggest adding double the amount of sugar to the water, but that's not required and doesn't dissolve properly.
*It can be very difficult to dissolve all the sugar in the water, so don't worry about some particles left after mixing.
Making A Bee Reviving Sugar Solution
2x tbsp caster sugar
1x tablespoon water
This is the ratio recommended by the RSPB. It is important to only use white sugar, not Demerara or red sugar cane. We only use lukewarm water from the tap to dissolve the sugar. It shouldn't be hot.
Simply combine sugar and water in a small plate or saucer.
Use Your Bee Revival Kit
You can revive bees anywhere with the Bee Resurrection Kit.
The small capsules are perfect for your keys and contain a special syrup specially developed to feed bees.
You can simply unscrew the vial that comes with the Bee Revival Kit and place it near a tired bee, just like you would a sugar and water mixture.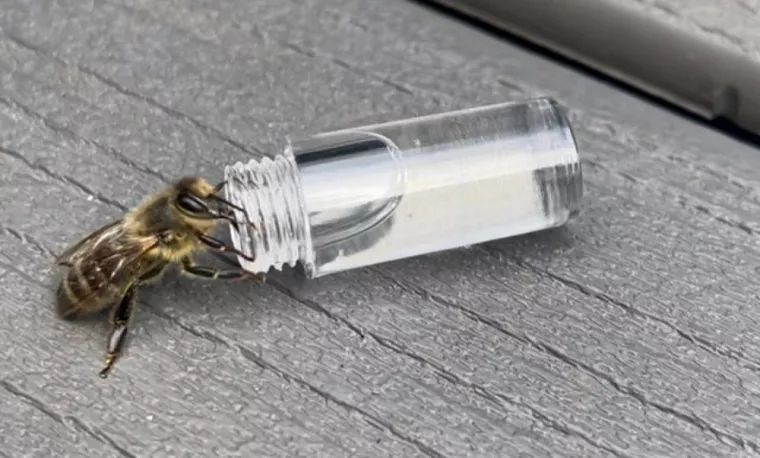 How To Feed A Bee Safely?
Depending on where the bees are, your approach may change. You can put a small puddle near the bee head. Or, if your hands are steady, maybe you can hold the spoon close enough for her to lick it a little. Alternatively, you can place them on a plate next to the bee. It doesn't really matter, just get the sugar solution close enough for the bees to take a sip.
Hopefully before long our furry friends will have the energy to pick up and fly to the nearest supply of ample nectar and return to the safety of the hive.
Can You Revive A Bee With Honey?
No, you shouldn't try to feed bees honey.
Much of the honey we consume is imported from other countries and produced by bees in those countries.
While this is not a problem for humans, ingesting honey from the hive or outside of the hive can spread deadly diseases and infections, leading to colony collapse disorder.
American Foulbrood disease, commonly referred to as (AFD), is spread by spores in honey, and a single bee that comes in contact with these spores can return and infect an entire colony.
When It Is Necessary To Revive The Bees?
Knowing when bees need help or just rest is crucial. Trying to feed a dormant bee sugar water will only stress her out.
Hornet queens have been observed to rest for 30 to 45 minutes before flying.
Think of yourself as a beekeeper, you are only helping in an emergency, not every day.
The most obvious sign that a bee needs help is a lack of suitable flowers.
Large urban areas are usually the most common places where bees need a little energy.
Gathering resources is tiring for bees, and believe it or not, bumblebees only have 43 minutes to starve to death at any given time, as tons of calories hum in the air.
How To Save A Dying Bee?
Unfortunately, it's impossible to save a dying bee, and there's not much you can do when a bee has reached the end of its life.
In the summer period honeybees have a lifespan of only 30-60 days, while, while bumblebees have an even shorter lifespan of about 28 days.
Due to their relatively short life cycle, the chances of finding bees in the final stages of their life are very high.
Raw vs Organic vs Filtered vs Unfiltered Honey: Which Is Best?
How Do You Know If A Bee Is Dying Or Tired?
It's hard to tell if the bees are dying or just tired.
Dying bees often display traits associated with lethargy, clinging to flowers and plant stems, and appear lethargic.
Any bee that does little or no movement near their nest or hive is likely to reach the end of its life cycle, and it's best to leave it alone.
Guard bees tasked with protecting other residents often drive unhealthy bees out of the nest to avoid affecting the entire colony.
Resuscitating bees with an underlying disease or infection can actually be detrimental, so as a rule, you should never help bees near the nest or anywhere in the hive.
If you find a bee in a nectar-rich environment and it still looks tame, it may be due to age, and your best bet is to leave it alone.
Why Bees Need Our Help?
Bees are responsible for pollinating 70% of our wild plants and about 80% of the world's pollination.
In the UK there are 25 species of bumblebees, 260 solitary bees and 1 bee, all of which are essential for the pollination of our crops and food crops.
Some food crops that are pollinated by bees are:
Strawberries,
Apricots,
Beans and Pulses,
Pears,
Courgettes,
Plums,
Apples,
Types of nuts, including almonds
This is just a fraction of the fruits, vegetables and nuts pollinated by bees.
This also extends to some crops produced for animal feed, the lack of which will severely impact the meat and dairy industries.
As cities expand and take up more green space, we are slowly reducing the amount of resources available to bees.
Plants rich in pollen and nectar will be replaced as we sacrifice green space for further urban development.
What Is The Official Name For Honey Bee Farming?
The First And Best Way Is To Plant A Honey Flower
Overall, the best way to help bees has been and always will be to grow more nectar- and pollen-rich flowers, especially in urban areas.
This could be creating a wildflower area in your garden, growing more bee-friendly flowers, or even helping a local organization develop a wildlife sanctuary in your community.
You can read the RHS Pollinator Plant Guide to learn more about the best types of plants for bees and pollinators.
Here you can find the 20 best flowers for bees: 20 Best Flowers for Bees, Butterflies And Other Pollinators
A Few Final Points
While it's a good idea to leave a shallow bowl of water near the flower for the bees to drink, this should be regular, regular rainwater. It's important to reiterate that you should never leave any sugar solution free for bees to drink. It prevents them from collecting nectar and can be very bad for their health. The sugar solution should only be used in an emergency, when the bees clearly need your help!
If there are flowers nearby, you can try placing bees on a flower and let it drink some nectar. This method is recommended by some insect conservation groups. However, it has obvious problems. The flower may have been deprived of nectar by other bees, which may be why the bees are in the place where it is. Not to mention that not everyone is confident or comfortable enough to handle bees this way!
If you spot bees in more remote urban areas, there may be no flowers nearby to try. The bee may have been on the route it had traveled many times before, until one day a large field of flowers was cleared and captured. Yes, in an ideal world, nectar is best because it provides nutrients that sugar solutions cannot, but we can't always be so idealistic. If there is an opportunity to do something or not to do something, we recommend doing something.
Bees are also affected by sudden changes in temperature, and if the temperature is below 12 degrees Celsius, they cannot fly at all. If it's a particularly cool British summer, which is not uncommon, and you see a bee in the shade on the ground, try moving it to a sunny spot and see how it reacts before Feed it a sugar solution.
Frequently Asked Questions
We have listed some of the most frequently asked questions about resuscitating bees.
Can I Feed The Bees With Sugar Water All The Time?
No, sugar water is only for emergencies, It is not necessary to offer bees sugar water all the time, because otherwise bees will choose to collect ready-made liquids rather than the nectar and pollen they need to survive.
How Long Does It Take For My Bees To Revive?
This varies from bee to bee, but 5-10 minutes is usually enough for bees to harvest energy from the sugar water.
Winterizing Bee Hives: The Best Honey Bee Hive Winter Insulation
What Should I Feed A Tired Bumblebee?
You can revive a tired bumblebee by following the instructions in this guide exactly. Keep in mind that bumblebees are a larger species and may need more syrup for energy.