Bees are fascinating creatures that play a crucial role in our ecosystem. Their buzzing activities around flowers, gathering nectar, and pollinating plants are a common sight during the warmer months. But have you ever wondered if bees are vertebrates? In this blog post, we will explore the classification and characteristics of bees to understand whether they belong to the vertebrate or invertebrate group.
What are Bees?
Bees are small, flying insects that are part of the Hymenoptera order. They are best known for their role as pollinators, aiding in the reproduction of flowering plants by transferring pollen from one flower to another. There are over 20,000 species of bees, ranging in size, color, and behavior.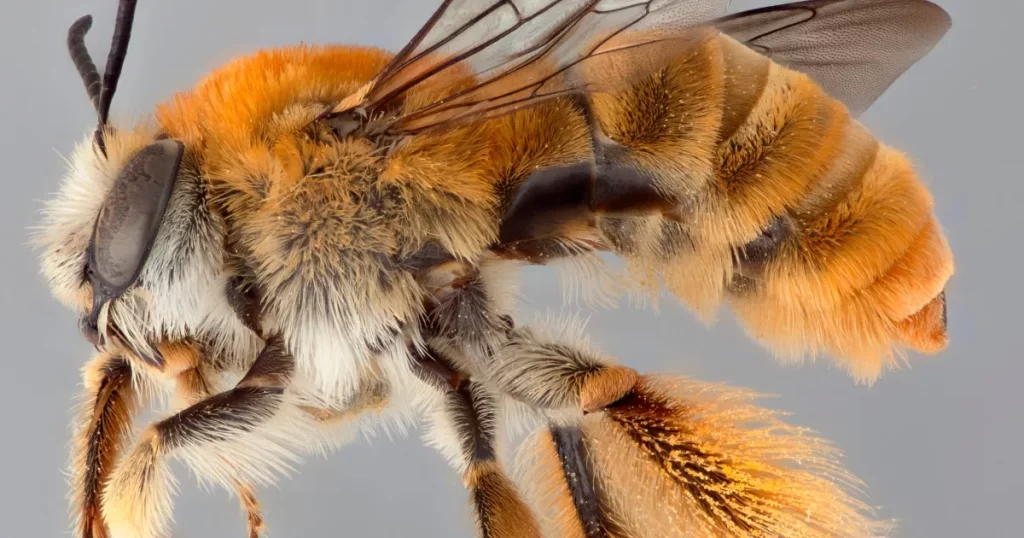 Bees: Invertebrates or Vertebrates?
To determine whether bees are vertebrates or not, we need to look at their anatomical features. Vertebrates are animals that possess a backbone or spinal column, while invertebrates lack this structure.
Bees fall under the category of invertebrates. They do not have a backbone; instead, they have an exoskeleton, which serves as their outer protective covering. This exoskeleton is made of chitin, a tough substance that provides support and protection.
Bee Anatomy and Physiology
A deeper understanding of bee anatomy will shed more light on their classification. Let's explore some key anatomical features:
Head: The bee's head houses its sensory organs, including the antennae, compound eyes, and mouthparts. The antennae are crucial for sensing their environment and locating nectar-rich flowers.
Thorax: The thorax is the middle segment of the bee's body and is where the wings and six legs are attached. The powerful flight muscles in the thorax enable bees to hover, fly, and maneuver swiftly.
Abdomen: The abdomen contains vital organs such as the digestive system and reproductive organs. Worker bees have specialized structures on their hind legs to carry pollen, while the queen's abdomen is larger and developed for egg-laying.
The Lifecycle of Bees
Bees undergo a complete metamorphosis, which consists of four stages: egg, larva, pupa, and adult bee. The queen bee lays eggs, and after hatching, the larvae are fed with a mixture of pollen and nectar. The larvae then pupate and transform into adult bees.
The Diversity of Bee Species
As mentioned earlier, there are over 20,000 known bee species, and each has unique characteristics and behaviors. Some of the most common species include honeybees, bumblebees, carpenter bees, and solitary bees.
The Importance of Bees in the Ecosystem
The ecological role of bees is immense. One of their primary functions is pollination, which is crucial for the reproduction of plants. Many fruits, vegetables, and nuts depend on bee pollination for their growth and production.
In addition to providing essential ecosystem services, bees also contribute to biodiversity and habitat maintenance. Their foraging activities aid in the dispersal of seeds, promoting the growth of various plant species.
Bee Pollination and its Significance
The process of pollination occurs when bees visit flowers in search of nectar. During this visit, pollen grains stick to the bees' bodies and are transferred to other flowers as they move from one blossom to another. This cross-pollination leads to fertilization, resulting in the formation of seeds and fruits.
The Social Structure of Bees
Many bee species, such as honeybees and bumblebees, exhibit social behavior. They live in colonies with specific roles assigned to different members:
Queen Bee: The queen bee is the heart of the colony and is responsible for laying eggs. Her pheromones maintain colony cohesion and regulate the behavior of worker bees.
Worker Bees: The worker bees are sterile females that perform various tasks, including foraging for food, tending to the queen and larvae, and building and maintaining the hive.
Drones: Male bees known as drones have the primary purpose of mating with the queen. Once they fulfill this role, they die shortly after mating.
Threats to Bee Populations
Despite their importance in the ecosystem, bees face several challenges that threaten their populations. Some of the major threats include:
Habitat Loss: The destruction of natural habitats due to urbanization and agricultural expansion reduces the availability of suitable nesting sites and food sources for bees.
Pesticides and Chemicals: The use of pesticides and harmful chemicals in agriculture can be toxic to bees, affecting their foraging behavior and overall health.
Climate Change: Changing weather patterns can disrupt the flowering cycles of plants, impacting the availability of food for bees.
Bee-Friendly Practices and Promoting Awareness
Promoting bee-friendly practices is not only essential for individuals but also for businesses and policymakers. Agriculture, in particular, can significantly impact bee populations. Adopting sustainable farming methods that minimize pesticide use and provide diverse habitats for bees can go a long way in preserving these valuable pollinators.
Educating the public about the significance of bees and the threats they face is also crucial. Schools, environmental organizations, and community groups can organize workshops and awareness campaigns to highlight the importance of bees in the ecosystem and the steps we can take to protect them.
The Beauty of Biodiversity
Bees are just one piece of the intricate puzzle of biodiversity. The diversity of life on Earth, from the tiniest insects to the largest mammals, is interconnected and interdependent. Each species, including bees, plays a specific role in maintaining ecological balance.
Preserving biodiversity is vital to ensure the resilience of ecosystems and to adapt to changing environmental conditions. By safeguarding bees and their habitats, we contribute to the conservation of countless other species that rely on healthy ecosystems for their survival.
The Future of Bees
The future of bees is not certain, but there is hope. Through collective efforts, we can mitigate the threats they face and create an environment where bees can thrive. Supporting scientific research on bees and their behavior can also provide valuable insights into how to better protect them.
Furthermore, the development and implementation of effective policies that address issues like habitat loss, pesticide use, and climate change are essential. Advocacy for bee-friendly regulations can lead to positive changes and foster a more sustainable coexistence between humans and bees.
FAQs – Are Bees Vertebrates? Understanding the Classification and Importance of These Busy Pollinators
Q1: Are bees vertebrates?
A1: No, bees are not vertebrates. They are classified as insects, belonging to the class Insecta.
Q2: Why are bees important in the ecosystem?
A2: Bees play a vital role in the ecosystem as pollinators. They facilitate the transfer of pollen from one flower to another, enabling the fertilization and reproduction of many plant species. This process supports agricultural productivity and helps maintain the diversity of plant life.
Q3: How do bees reproduce?
A3: Bees have a complex life cycle that involves several stages. They go through the stages of egg, larva, pupa, and finally, emerge as adult bees. The process of reproduction includes the queen bee laying eggs, which then hatch into larvae that are fed and cared for by worker bees until they develop into adult bees.
Q4: Do all bees live in colonies?
A4: No, not all bees live in colonies. While some bee species, like honeybees and bumblebees, are known for their social behavior and live in colonies, other bee species are solitary. Solitary bees build their nests and raise their offspring individually, without the presence of a colony.
Q5: What are the major threats to bees?
A5: Bees face several threats that impact their populations. The major threats include habitat loss due to urbanization and agricultural expansion, the use of pesticides that can harm bees directly or indirectly, and the effects of climate change, such as shifts in flowering patterns and extreme weather events.
Q6: How can I support bee conservation?
A6: There are several ways to support bee conservation. One of the most effective ways is to plant bee-friendly flowers in your garden or on your balcony. Avoid using harmful pesticides and herbicides that can harm bees and other pollinators. Creating pollinator-friendly spaces with a variety of plants can provide essential food sources and habitats for bees.
Q7: What role do bees play in biodiversity?
A7: Bees play a critical role in maintaining biodiversity by facilitating pollination. They are responsible for pollinating a wide variety of plants, including many wildflowers and crop species. By pollinating these plants, bees contribute to the reproduction and survival of various plant species, thus supporting biodiversity.
Q8: How can I spread awareness about bee conservation?
A8: You can spread awareness about bee conservation by organizing workshops, seminars, or educational events focused on bees and their importance in the ecosystem. Utilize social media platforms to share information about bee-friendly practices and the challenges bees face.
Q9: How can businesses contribute to bee conservation?
A9: Businesses can play a significant role in bee conservation by adopting sustainable practices. For example, reducing the use of harmful pesticides, creating pollinator-friendly landscapes on their premises, and supporting local beekeepers and bee-friendly initiatives.
Q10: How can we ensure a sustainable future for bees and ourselves?
A10: Ensuring a sustainable future for bees and ourselves requires collective efforts. It involves protecting natural habitats that bees rely on for food and shelter. Additionally, advocating for policies that prioritize bee-friendly practices and sustainable agriculture can make a significant impact. Supporting research and conservation initiatives focused on bees is also crucial for their survival and our well-being.
In Conclusion
Bees are incredible creatures that captivate our imagination with their complex behaviors and vital ecological roles. They are not vertebrates but belong to the diverse group of invertebrates. Their contribution to pollination supports agricultural productivity and sustains the natural beauty of our planet.
As we conclude this journey into the world of bees, let us remember that their survival is intertwined with ours. By protecting bees, we are securing our own future as well. Let's take action today to protect their habitats, reduce harmful practices, and spread awareness about their importance.
Each one of us has a role to play in safeguarding the well-being of these tiny heroes. Together, we can create a world where bees and humans thrive harmoniously, a world where the buzz of bees in a flower-filled garden is a joyful and reassuring symphony of life.
Let us join hands in celebrating and conserving these magnificent pollinators for generations to come. The future of bees, and ultimately our own future, depends on it.